What is the opening and closing time for Politeknik Brunei Finance Department?
Effective: 03 January 2022 8:00am-3:00pm : Mon – Thurs 8:00am-10:00am : Sat
Counter open only for time-slot booking
No walk-in is allowed until further notice.
Booking should be made at least three (3) days before the payment date.
Booking can be made through email at finance@pb.ed.bn or telephone: 2234466 (ext. 297 / 303)
What is the Standard Operating Procedure (SOP) for Politeknik Brunei?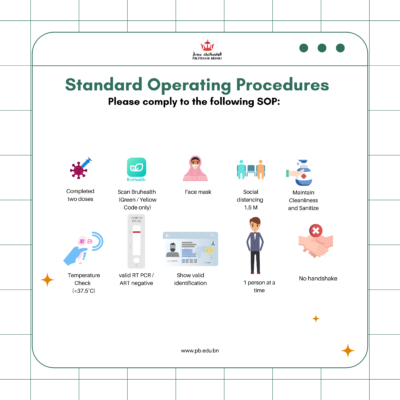 How many campuses that Politeknik Brunei have?
Politeknik Brunei have 2 campuses, namely:
Ong Sum Ping Campus (OSP)
Lumut Campus
Central administration is located at Ong Sum Ping (OSP) campus as well as the School of Business and School of ICT While the School of Science and Engineering and the School of Petrochemical are located at Lumut Campus School of Health Sciences is currently located at the Institute of Health Science at UBD