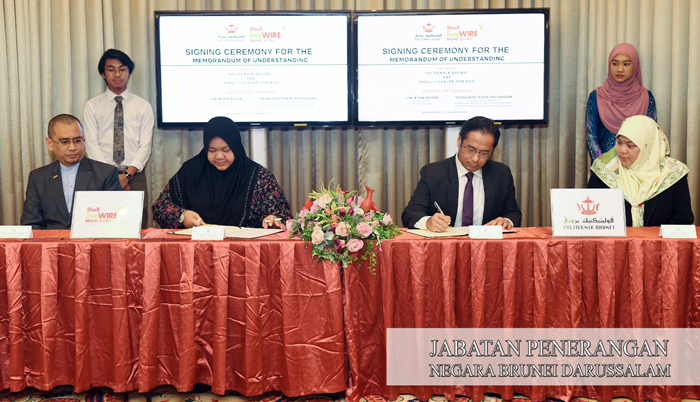 Shell LiveWIRE Brunei and Politeknik Brunei have recognised that it is imperative to compliment the Entrepreneurship Curriculum, Shell LiveWIRE Brunei Programme Director Haji Abdul Yusrin bin Dato Seri Laila Jasa Haji Salleh said during the ceremony.
Speaking at a ceremony where Politeknik Brunei and Shell LiveWIRE inked a memorandum of understanding (MoU), he said by providing the platform as a supplementary foundation of entrepreneurship learning, the students benefitting from Shell LiveWIRE Brunei's programme will also have the opportunity to submit and pitch their business plans for the LiveWIRE Brunei Business Awards and LiveWIRE Top ten Innovators Award.
The signing ceremony was held at the mock hotel of Politeknik Brunei's Main Campus at Jalan Ong Sum Ping.
Politeknik Brunei Acting Director Lim Kian Boon and Brunei Shell Petroleum Company Sdn Bhd (BSP) In-Country Value Manager and Shell LiveWIRE Brunei Chairperson Hajah Rosita binti Haji Hassan signed the MoU.
Arbaniah binti Haji Sablee representing Politeknik Brunei and Haji Abdul Yusrin witnessed the signing.
Politeknik Brunei and Shell LiveWIRE have long forged cooperative ties, especially through the entrepreneur workshops and leadership and teambuilding programmes for Politeknik Brunei students.